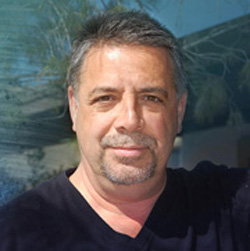 Rick Ponzo was born in Queens, NY, and lived on Long Island until his parents bought land in Fountain Hills, AZ and moved to Tempe, AZ in 1975.  Rick finished High School in Tempe, then after a few years of traveling he came back to Arizona unsure of what the future held for him. Rick was raised Catholic, but hadn't attended church from the age of 12 until he was 20 when a friend stopped by his house to tell him about Jesus. Rick committed his life to Christ immediately, and one year later he joined the U.S. Navy.
Rick was stationed in San Diego, CA and served as a Hovercraft Navigator at Camp Pendleton.  Before the first gulf war, Rick felt the call of the Lord to "get prepared" for the upcoming deployment to the gulf.  He packed away music, Bibles, and commentaries to bring on the trip, not knowing what to expect. Once deployed, he was told the ship did not have a chaplain.  Rick asked the captain if there was a place where he could hold Bible study. Over the next ten months he held Bible study each night in the library on the ship with the blessing of the ship's captain.
Upon returning to the US, Rick knew the ministry God placed before him was complete.  It wasn't until years later that the Lord placed the calling once more on Rick's life.
Rick and his wife Cheryl met at a San Diego church in 1996, and were married in May of 1997.  After moving to north San Diego county, they began attending Maranatha Chapel in Rancho Bernardo, where Cheryl was on staff.  Rick lead men's small groups, and was a member of the security team.
The Lord placed a calling on Rick and Cheryl's life to relocate to Arizona to be closer to Rick's family who lived in the valley.  With the support of the CEO of the company he worked for, the Ponzo family moved from San Diego to Queen Creek in 2004.  Rick continued to work from home, while Cheryl went on staff at a new church plant, Calvary Chapel of Queen Creek.
Rick served at Calvary Queen Creek with Pastor Jim Remington for seven years leading young marrieds' ministry, usher/greeter ministry and men's ministry.  Rick and Cheryl had been praying about planting a new church since 2007, and in early 2011 Rick approached Pastor Jim about planting a new Calvary Chapel in the Town of Fountain Hills.  Rick was ordained by Pastor Jim, and with the blessing of the church in Queen Creek proceeded to establish Calvary Chapel Fountain Hills.
Calvary Fountain Hills held its first service in September of 2011, meeting at the old Four Peaks Elementary School location.  In early 2016 Pastor Rick was informed that EVIT was moving into the Four Peaks school, so the lease would not be renewed at the end of the year.
In February of 2017 Calvary Chapel Fountain Hills moved to a new facility on the corner of Verde River Drive and Parkview, one block up from Fountain Park.
Pastor Rick Ponzo and his wife Cheryl are excited and blessed to be serving the Lord in the Town of Fountain Hills.